ConnecTour is all about discovering the people and places of Canada. It's the reason why the group is not riding for a specific charity. Our job is to focus on the magical places and amazing Canadians we will meet.
Every participant in the tour, however, has the opportunity to ride in support of their own cause.
In the past couple of weeks, two of our core members – Lisa Monforton and Doug Firby – have found a cause they very much want to get behind.
Organ donations.
In the past two weeks, it has come to light that their son-in-law, Dax Grindler, is experiencing advanced liver failure. Doctors have told this 42-year-old athletic man that the only way to save his life is to perform a liver transplant. How quickly that must happen is still being assessed by a medical team in Victoria and this week in Vancouver, where he is being sent for assessment.
It appears life-saving surgery needs to happen soon.
You may have heard that many Canadians die each year waiting for an organ donation. The numbers are shocking.
In 2019, the Canadian Institute for Health Information tells us, 1,789 kidneys were transplanted in Canada, accounting for the majority of single-organ transplants. Other organs transplanted included 610 livers, 212 hearts, 404 lungs and 68 pancreases.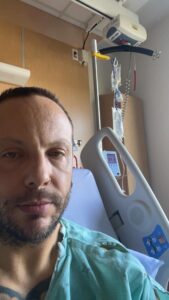 Tragically, though, that same year 250 Canadians died waiting for a donated organ and, at the end of 2019, 4,400 patients were waiting for a transplant. Yet, in most provinces only about one-third of people who could donate organs have registered to do so.
Dax has shown courage as he's battled several serious medical challenges over the years, including ulcerative colitis, testicular cancer and now liver failure. He has Primary Sclerosing Cholangitis (PSC), a rare liver condition that afflicts around five per cent of people with ulcerative colitis.
A liver transplant gives Dax and his loving partner Lauren a shot at a full and happy life together; failure to find a suitable liver donation puts Dax in grave peril.
Organ donations are registered by province. British Columbians who have not registered to donate their organs, or if they are unsure whether they have, can register here. If you live in another province, please check with your local registry. To learn more about your specific province, look at this page from the Canadian Organ Replacement Register Directory.
Lauren and Dax are also facing significant incidental expenses related to Dax's treatment. If you would like to support them, they are accepting donations at this GoFundMe page.
This ride is personal for Lisa and Doug now. This ride is for Dax. And it's to raise awareness of the life-gift of organ donation.