Lessons learned on an epic bike-packing trip in 2020
"It is by riding a bicycle that you learn the contours of a country best, since you have to sweat up the hills and coast down them. Thus you remember them as they actually are, while in a motor car only a high hill impresses you, and you have no such accurate remembrance of country you may have driven through as you gain by riding a bicycle." – Ernest Hemingway
Over the summer of 2020, a handful of friends and I had the extraordinary opportunity to discover that Canada is a vast, incredible, eye-opening country best experienced on two wheels.
The perspective gained only from the seat of a bicycle is one of the most beautiful things you can take on in life. I learned a lot along the way and have some tips if you ever plan a big trip like this.
I was joined for different segments by friends Alex Campbell, 19, Jacob Grover, 23, and my brother Markos McFerrin, 18, but the majority of the trip involved Jacob, Markos and myself. Although our route was partially planned by my father, Rick McFerrin, an experienced world-travelling bike tourer, most of our day-to-day distances were determined by how we were feeling in the moment.
Over three months, we covered 8,335 km and spent 76 days on our bikes, beginning at Mile 0 in Victoria, B.C. There were days of sweat, brutal headwinds; other days gave us god-sent tailwinds.
Our trip was to end in St. John's, NL, but instead we had to resort to Plan B because the Maritimes were closed for non-essential travel during the pandemic. Markos and I spent the last days of our trip looping around the Gaspésie – the Gaspé Peninsula – in eastern Quebec and then on to Montreal.
Eat, sleep, bike…repeat
Countless craft breweries, hearing travelers' stories, and meeting people with good hearts are among my favourite memories. But also those days on our bikes. Along the way, we took the time to appreciate the beauty of our glorious country. Riding a bike lets you live at the pace of life by getting down to the basics.
Eat, sleep, bike… repeat. These three things are your only form of consistency on the road. By focusing on these three simple things, you learn to fully appreciate cooking outside, sleeping under the stars, and spending your days exploring new places.
People often ask: "What do you eat?" Cooking on the road doesn't restrict you from making anything that you would at home. Although you don't have an oven, but the choice of ingredients is unlimited. Whatever you eat is fresh because you're making daily visits to a grocery store. But the best part is that cycling 70 to 130 km a day is a physical demand and allows you to eat as much of anything you want – provided you keep moving. Fresh veggie-full pasta, steaks with sides of grilled potatoes and asparagus, and a pot full of chili with some cornbread were some of our staples.
Want to experience Canada like this? Sign up now!
After a long day on the road, curling up in your sleeping bag is one of the most peaceful times. So is living by the light of the sun, some of the most tranquil moments of bike travel. If there's one piece of advice I would give any bike dreamer, it's this: Get up early with the sun around 6 or 7 a.m.  That way, you get the majority of the miles behind you in the morning so you can take time to relax in the afternoon. The sun typically sets by 8 or 9 p.m. and a bicycle tourist can definitely benefit from a 10-hour sleep.
Eat lots, sleep even more, and then comes the biking – putting you on the road to living life to its fullest.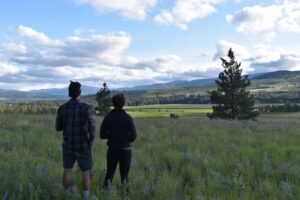 Essential gear – besides the obvious
When it comes to essential gear, start with these three things: a raincoat, a travel towel and comfortable shoes for when setting up camp or for exploring. Although you'll be bringing bike tools, a tent and cooking gear, it is important to learn how to travel light. I bring two to three sets of clothes, but if you're travelling for long enough that your clothes fall apart from sweat and sun, it's a good excuse to buy some replacements!
A solid raincoat comes in handy, whether it's a rainy day, super windy, or even just for sitting around a fire in the evening. It will keep you comfortably dry and warm.
A travel towel is more of a personal preference because I thoroughly enjoy jumping in whatever stream, lake or body of water I can find in the evening to wash off. Having a clean towel to finish off your outdoor shower/bath is the best way to make you feel fresh and clean.
Finally, comfortable shoes are worth the space they take up in your bags when it's time to set up camp and go out on the occasional town/outdoor adventure.
Meeting everyday Canadians
We had so many amazing encounters with people. Here's a sampling of a few: sharing stories with Hutterite families around a fire after a game of softball followed by being invited to a lovely breakfast the following morning;  the Quebecois fishermen who offered us coffee on the coast of Gaspésie Peninsula and then finishing the trip by being hosted in a 300-year-old Quebecois-style house; learning about the business of firewood from a 10-year-old boy in the Kootenay's of B.C. on an old rail trail in the mountains; spending a few days in the Pic River Ojibway First Nations. Everywhere we went from West to East, we were awestruck by the kindness of Canadians.
Our experiences by bike went beyond my expectations.
Travelling Canada on two wheels with friends is seeing the country at the speed of life. It's the kind of trip that builds friendships, develops brotherhoods as we explored the wild, meeting the most beautiful people and venturing into the unknown.
Travelling by bike helps you appreciate some of the smaller aspects of living that get overlooked in our everyday lives. It's also a great way to discover the stories of our country.
Sampson McFerrin grew up in Calgary and is now a student at Concordia University in Montreal.